ABOUT NT USA CORPORATION
Since it's foundation, NT Tool has focused on developing and providing precision tooling systems for manufacturers in the automotive, aerospace, medical, and die mold industries. As a forerunner and as a pioneer of this field, NT Tool continually strives to achieve the highest product and customer support satisfaction in the industry through the development of new cutting edge technology, and a motivated technically knowledgeable support staff.
Expanding and connecting - NT Tool's global network -
In addition to our headquarter in the city of Takahama in Aichi, Japan, we have rolled out domestic bases in Tokyo, Osaka, Hiroshima, and Iida. Outside of Japan, we have established sales centers in the USA, Mexico, Germany, China, Thailand, and Indonesia. We broadened our communication link to customers in over 30 countries around the world. We will continue to expand the NT Tool network to meet rising worldwide demand in the manufacturing industry.
ABOUT NT TOOL CORPORATION
Company name
NT TOOL CORPORATION
Address
1-7-10, Yoshikawa-cho, Takahama City, Aichi,
444-1386 Japan
Tel.81-566-54-0101 Fax.81-566-54-0111
CEO
Yuji Naito
Capital
30 million yen
Established
April, 1976
Sales
5 billion yen
Workforce
251
Organization
*Manufacturing and sales of tool holders for machining centers and dedicated machines
*Manufacturing and sales of tool holder peripherals for machining centers and dedicated machines
*Manufacturing and sales of jig bushing and chamfering drill
Customer
Toyota Motor Corporation, Honda Motor Co, Ltd, Nissan Motor Co, Ltd, Suzuki Motor Corporation, MAZDA Motor Corporation, MITSUBISHI MOTORS CORPORATION, Isuzu Motors Ltd, Daihatsu Motor Co, Ltd, Fuji Heavy Industries Ltd

DENSO CORPORATION, AISIN AW CO,LTD, AISIN SEIKI CO,LTD
Matsushita Electric Industrial Co, Ltd, Mitsubishi Electric Corporation

Ford Motor Company, General Motors Corporation, The Boeing Company
Business Condition
Although we felt some impact from economic crisis in 2008, we recovered quickly through the strength of our own product group in the market. Orders from both domestic and foreign major users recovered as well and we are once again leading the tool industry.
■HEAD OFFICE LocationMap    >>Location    >>CorporateProfile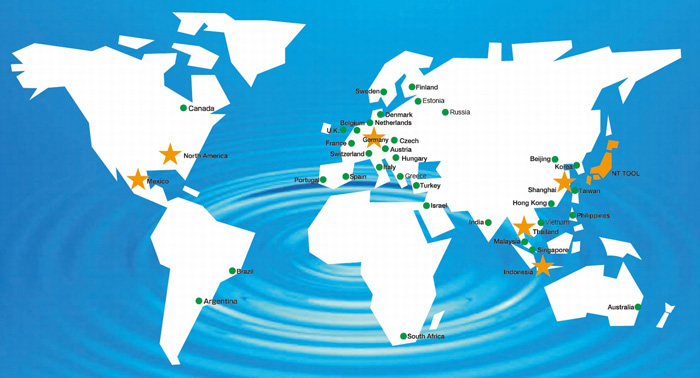 NT ENGINEERING is a group of skillful engineers main product is an automatic tool correction system that combines bilateral type actuators with an electronic measurement controller Addressing computerized optimal control with sensor and wireless communication technology as its core competence.
NT SEIMITSU is a leading manufacturer of ABS braking system parts and hydraulic suspension components with special ability to machine in sub micron tolerances. All products are in use each day and night, in the air, on the ocean and on the road and in space.
NT TECHNO is an automotive parts manufacturer. The company was awarded the Deming Prize in 1994 and its precision machining technology is highly valued. The "in house" design and manufacturing of equipment provides "state of the art"production lines keeping the company at the forefront of technology.